Last.fm - Hear my personal radio station: | The Art of the Mix: My Profile & Mix cds | Trials & Tribulations of One Firebrand Chicana: My Political Blog | Women of 1970's Punk: an amazing resource! | Indie-Pop Encyclopedia - Useful & informative : |
Kicking Against the Pricks: A Journal About Music Lust
Mar. 15th, 2006 01:08 am Upcoming Shows!!


So, there's a slew of great bands finally making their way through to Florida! Ooh, I am so excited to see some awesome bands live! I need help deciding which Mark Kozelek date would be the best. I've read some other people's opinion about it so I'm not sure. Logically, the Tampa date would make sense since I wouldn't have to drive far (and I don't like driving, who does?) but the Orpheum is not the greatest venue, after all. The Social is so much more comfortable a space. Anyone have an opinion about this? I'd like to get a tix ASAP before they sell out or anything, I'm not sure how likely that is but everyone loves that Sun Kil Moon record or followed his previous band. Give me some tips, por favor. The roll call of shows I'll be at (hopefully;)

Sunday, March 19th - Von Bondies - St. Pete
(This is a free show and I should go because it's free. I can't remember the last time I listened to them but they may be a great live band. I love free shit too.)

Monday March 20th - The Gossip - Gainesville
(I'm finally going to see them after waiting forever for them to hit Tampa! It'll also be a mini road trip with my sister visiting from Maryland.)

Sunday, April 2nd - The Books - Orlando
(I can't believe this band is having such an extensive tour and playing for three dates in Florida. I'd never expect such a low key band to do that but I'm excited to hear what they sound like live. Their records are so well crafted that I have no idea how they'd do it live. Damn, that reminds me of the Four Tet show I missed at the Social. I was stupid to miss it.)

Sunday, April 9th - Stellastarr & Editors - St. Pete
(I haven't made up my mind about this one. Again, I haven't listened to Stellastar in so long and I haven't checked out their new album. Editors are the buzz band and I've read that they're incredible live. I'd love to hear some dramatic rock songs live but I don't like the State Theatre at all. Maybe the Social date would be better?)

Tuesday, April 25th - Bloc Party - Ft. Lauderdale
(I couldn't believe my eyes when I saw this listed online but yes, it's true, somehow somebody had the hook-up to get Bloc Party to play only one show in Florida. There's no way I could miss this! I love them. I've never driven to that area so it'll be a new challenge. It's an awful night too but I suppose I'll take the next day off to recover. I can't wait!)

Friday, May 12th - Mark Kozelek - Tampa
(I'll probably go this date now that I'm thinking about it since it's a Friday night and not a bloody Monday night like the Social date. I don't know what to expect but some really sad music to hold back the watery eyes to. Should be good! Should make up for missing M. Ward when he played the Orpheum. I still feel terrible about that every time I think about it.)

Sunday, May 21st - Pretty Girls Make Graves - Tampa
(One of my favorite bands to see live and I haven't missed any of their shows in Tampa yet! I can't wait to hear their new songs live.)





In other news, the new Make-up live release looks fucking good! I never did pick up any live releases by them before but they were supposed to be a legendary band live and I can totally tell that by the few tracks I've heard. I just wish I could have seen them before they broke up or whatever. They sound like so much fun and such a spectacle live! Have a taste here: http://dragcity.com/mp3/sn13mubotf.mp3





Current Mood:
excited
Current Music: Make-Up - Born On The Floor (live)


10 comments - Leave a comment
Mar. 14th, 2006 04:16 am Late-night You Tubin with the Au Pairs


So I'm up late into the early morning unable to stop searching for music videos I've never seen on You Tube and I come across a very rare live video of one of the best unknown bands ever, the Au Pairs! Damn, they're live performance is thrilling to see... it's gets me all worked up to dance or something! It's one of my favorite songs of theirs too, Come Again. The stage tension and interplay between the two singers is incredible! I do some more searching around on the web to see if there's anything I haven't read about the band. Lo and behold, I come across an announcement about an upcoming double cd reissue of all the Au Pairs stuff... including the hard to find Peel Sessions. I am so excited for this release due out in late April. With this release and the earlier Delta 5 compilation, this year couldn't get any better for me with all my favorite obsure bands being reissued. Damn, I feel blessed to hear and have access to some much good stuff, I am beyond content right now.

Release info: http://www.sanctuaryrecords.co.uk/index.php?action=showproduct&productid=34422&l1=3&l2=0&l3=0&rt=CA&lastpage=

Come Again live video: http://youtube.com/watch?v=lpcy4kXRttE

All this Au Pairs talk reminds me of the awesome song Autonomy Boy by the newish UK band the Long Blondes, that has a similar sound going on. It's an awesome track!
Find it here: http://www.zshare.net/download/autonomy-boy-mp3.html

P.S. I'd kill to play the drums like Joy Division's drummer in this live video of my favorite song Transmission: http://youtube.com/watch?v=3Q6qr7DzWgE
Current Mood:
sleepy
Current Music: Morrissey - Suedehead


3 comments - Leave a comment
Mar. 6th, 2006 04:06 pm PJ:MIA



So, my little chihuahua of 3 years has been missing for a little over a week now and I'm pretty heartbroken about it. PJ was my consistent companion for the first 3 years of college for me, which have been pretty tough. Anyhow, I don't know if I'll ever see him again but here's to PJ and all the endless love he gave me. His little Dogster page is here: http://www.dogster.com/?82547

My heartbreak needs a soundtrack too which is why I'm listening to these fine two albums:




Galaxie 500's unbelievable Peel Sessions release. It's sooo good. The perfect music for morose introspection. What a beautiful drawing of the band too! I've got a poster of the cover in my room right now, what a freak I am about this band!






Isobel Campbell & Mark Lanegan's surprise album together is really interesting to hear. I love the whole duet album concept and they both have such unique voices. I'm growing into it but it's definitely worth hearing. Reminds me of the duet album that Dean Wareham & Britta Phillips did together, which I really liked.

I also recently been checking YouTube and all the endless time capsule nuggets one can find on there. I got all excited and uploaded my own video to join the multitudes who have already done so. It's the one good song I shot of Broadcast live performing the song 'Black Cat' at the Black Cat Club in D.C. back in Nov. It was the best live music I've ever seen and one of the best nights ever at that. Check it: http://youtube.com/watch?v=chvYpd-Lv0U


Current Mood:
3 midterms on Thurs, yess!!!
Current Music: Belle & Sebastian - Another Sunny Day


8 comments - Leave a comment
Feb. 23rd, 2006 01:23 pm Nilsson Schmilsson





This forthcoming doc on Harry Nilsson looks really good. I fell in love with his song from watching Midnight Cowboy and I've found other music by him, especially his beautiful song 'Without Her.' He definitely looks like a fascinating person from the trailer for the doc. There's nothing I like better than music documentaries. Scheck it out: http://www.lslproductions.com/wihn_home.html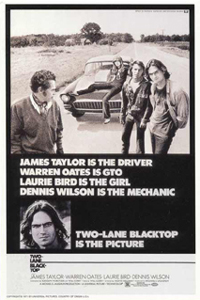 I've been watching and hearing so much stuff from the seventies right now. I'm taking a seminar course on the seventies so it's been a trip to see all this stuff from a time before I was born. We have to choose a 70's film in particular and write a series of papers on different aspects about the film. I've had a hard time choosing from all the good shit that came out in the 70's. I wanted to do Midnight Cowboy but that was actually made on the cusp of the seventies, in 69' to be exact. It would have made the perfect film to write about, it's so loaded with imagery and meaning. Now I've actually settled on a film made in the 70's and it's a smaller, cult film called 'Two-Lane Blacktop' that I came across just in time on Sundance. It's definitely a quiet film that left a lasting impression on me. It left me with this strange mood after watching it. Reading up on it afterwards I discover the cult status that it has and other's interpretations of it. Seeing it called an existential road film really piqued my interest in it and I've really grown to love it. I suppose the difficulty of finding a copy of my own made it more exciting in a way too since dvds are collector items selling at $50 bucks and up. Even VHS copies are selling for crazy prices online. I've figured it would be best to tape that film myself off of Sundance but even that was challenging since no one has a VCR anymore so acquiring one, hooking it up, and finding a decent tape to re-record on was frustrating. All that trouble is worth it because this film subtly embodies the seventies spirit in so many ways. Now I just have to focus and write a damn good paper on it. I picked up this really interesting book called 'Lost Highways' about the history of road movies and the genre. I even accidently came upon news of an upcoming IFC documentary called 'Wanderlust' that will chronicle the history of road films and their shared charateristics. It's being filmed by the same team behind 'American Splendor' which I really liked. All these things have come together just right to make me feel really lucky to have come across 'Two-Lane Blacktop' and the mysterious aura surrounding it. I've even uncovered this indie tribute album to the film that has Cat Power, Will Oldham, and Calexico on it called 'You Can Never Go Fast Enough.' Fuck! That's way too perfect. Effing synchronicity! It's eerie how much the girl in the film resembles Chan Marshall too... I think Chan must have gotten her aesthetic from this cult actress who died by suicide. It's all so fucking interesting!!

Wanderlust: http://www.variety.com/article/VR1117907914?categoryid=1238&cs=1

Tribute cd: http://www.undertheradarmag.com/webonly/albumreviews/You%20Can%20Never%20Go%20Fast%20Enough/youcannever.html






On the music front, I really, honestly, can't stop listening to songs off the Jenny Lewis album. Her voice pulls you in like few other people can. It's beautiful and you shouldn't resist it. I especially love the songs 'You are what you Love,' 'Rabbit Fur Coat,' and 'Rise up with Fists!' She's a pretty enigmatic artist, I think despite her huge popularity.

I have to balance the softer, emotional music with something harder and upbeat of course, hence my obsession with all things Delta 5! That compilation is killer and they're too bad-ass for words!
http://www.killrockstars.com/press/415/
Current Mood:
energetic
Current Music: Jose Gonzalez - Love Will Tear Us Apart


3 comments - Leave a comment
Nov. 22nd, 2005 04:08 pm Fuck, vintage Buzzcocks video!
Haha, I'm in the midst of finishing a late-ass paper on Heidegger and all I can focus on is wasting away vital minutes on reading music blogs!
I'm glad I checked out the latest Stereogum post on the new DFA79' remix album cause' that led to finding this sweet vintage clip of the Buzzcocks back in 80'! Fucking awesome! It's 'What Do I Get?' no less! I can't believe how long ago this was... four years before I was born.
Fuck, there's nothing like vintage punk footage to get me over-excited. Heidegger had some good ideas but he has nothing on the fucking Buzzcocks!
Watch it here: http://www.kinodv.net/movies/moviepages/BuzzcocksWhatDoIGet.html
(Haha, just noticed the guy holding his ears at the end of the clip, why was he doing that at a Buzzcocks show?!)
I found the clip while following Stereogum's link to another clip by the classic Boston punk band La Peste. I've never heard of them before but now I'll have to look into them. They played with Mission of Burma so they have to have been awesome. DFA79' covered one of their songs on the new remix album which is why the band was mentioned in the post. Fuck, do I just love discovering shit like this online... it's great. That orginial La Peste track just has to be on my next mix now!
Fabulous Stereogum post: http://www.stereogum.com/archives/002103.html
Current Mood:
rushed
Current Music: La Peste - Better Off Dead

Leave a comment
Nov. 8th, 2005 10:04 pm DFA79' Live Performance Video!
Hmm, it's quite strange but DFA79' have a streaming performance from their date at the Voodoo Music Experience on VH1, of all places. Man, I guess the band's is truly on this whole other level now after this tour with NIN... I still think that their sound is better suited and loved in small clubs than in huge arenas. I don't know where the band will go from here but I hear their next album will be some crazy concept like 3 different versions of the album all released at the same time. I can't even fathom what all that will sound like. I know there are plenty of people that just plain dislike this band or don't get their appeal, I can't really explain it either, but I know that ever since I first heard the track 'Dead Womb' on the semi-obscure CBCRadio3 site about a year ago, I've been fascinated by their sound. They have really blown up in a year's time but I wish them all the best... they are still some humble guys with amazing drumming and bass playing abilities. I know there are a ton of other bands out there to love right now but DFA are still on the top of my list. Watch a full performance of the band and try not to get distracted by the ten people in the audience...
http://www.vh1.com/shows/concerts/voodoo_fest_2005/
There are like a billion UK bands to check out all the time including now and right now the Rakes are at the top of my list to hear further... I'm liking what I hear so far but it's all in the same vein as Futureheads and Maximo Park, which is not bad at all. The producer of all those bands, Paul Epworth, does the Rakes album too so I like that. Epworth also does those excellent Phones remixes that always sound awesome to me. I don't think this post-punk/disco-punk revival will die down but I still cannot stop listening! Here's the fabulous Phones remix of the awesome Rakes track 'Retreat' from their EP.
http://s53.yousendit.com/d.aspx?id=2Q9FH2LAGUP310UJF0HOK0Z08M
Epworth's personal website with loads of interesting info:
Current Mood:
hungry
Current Music: Rakes - We are all animals


3 comments - Leave a comment
Nov. 2nd, 2005 04:17 pm Broadcast live on KEXP + Arthur Russell
It was a cold, rainy, and dreary day yesterday and I happened to get this album by Arthur Russell in the mail that I had bought a while back based on the amazing reviews that I had read seemingly everywhere. The final straw was reading a list of top albums of 2004 by Mr. Andrew Bird and seeing this 'World of Echo' listed on there. I had also heard some painfully short samples of some tracks online which definitely piqued my interest. Needless to say, it was the perfect strange and soothing soundtrack to a dark day and even darker night. The sound on this record really does envelope you and the sound of his voice is eerie and alluring. I am so glad that I took the chance and bought this album that originally came out almost two decades ago (almost as old as I am!) but that still sounds amazing so many years later. Here's a good story on the artist behind this album:
http://www.slate.com/id/2096948/
(The recent daylight savings time switch has got me all fucked up too... the dark comes quicker and eerier and my sleeping pattern is off. I feel strange, aloof, and distant, and this album was perfect for this moody period...)
Oh yeah, the band that I will never tire of writing about, Broadcast just had a live session with the mighty KEXP radio in Seattle a few days back and the results of it can be heard online. They sound fucking great! I am now even more estactic to see them live next Saturday at the Black Cat in D.C. Man, I can't wait to hear all the songs I've only heard isolated in my bedroom live and booming. I will attempt not to get lost in the noise but I really doubt it. They're such an incredible band....
To listen to the sesssion, visit this link: http://www.kexp.org/streamarchive/streamarchive.asp
Select Oct. 30 as the start date and 1:00 PM as the start time, et voila, the Broadcast live session will be up as soon as that dance track is over! They sound soooo great!
Hmm, lastly, I finally got the Art Brut full length yesterday and it's great! I love the frontman's shouted "vocals" and crazy lyrics. Favorite track so far is 'My Little Brother' along with the other excellent tracks 'Bang Bang...' and 'Good Weekend.'
Current Mood:
stressed
Current Music: Art Brut - Bang Bang Rock & Roll (excellent album!)


5 comments - Leave a comment
Oct. 23rd, 2005 03:46 pm DFA 1979 were amazing in person!!

As taken from my blog on Myspace once again... I just like the format better sometimes, honestly!
"Woah, I am so blown away right now at how cool the band was in person and also taken aback by how few people showed up! What the hell people? This band is unbelievable and you missed a chance to meet them in person and get free merch like I did!
I was trying hard to keep the rock star awe down but it was so hard when one of your favorite bands is standing literally steps away from you! It was kind of odd to hang out in the store while they played music since you weren't really there to buy music but to see them! I wanted the new Boards of Canada but they were sold out of that.
Anyhow, I got to talk to Jesse, the bassist, about random things including his East Indian heritage and the Florida heat. I didn't want to be one of the those people that talk the ears off of bands but nobody else even noticed him! He was so nice and let me take a picture of him and he even hooked me up with a t-shirt and a signed poster.
I would have loved to talk some more with Sebastien, the drummer but he was out of reach. I didn't want to weird them out but I wanted to say 'I love you guys!' I still can't believe how few people came to see them! There were so few and most others were there doing their regular shopping; too bad for them that they didn't realize what an awesome band was in their midst!
Now I am even more excited to see them play live in Orlando this Wed! I was elated to find out that they had their own show booked in Orlando and that I wouldn't have to pay a lot of money to see their show tonight with NIN and Queens of the Stone Age. At the Forum too, eww!
I am such a happy band fan/music nerd right now, it's crazy!
I was so caught up with hanging out with the band at Vinyl Fever that I almost forgot about pledging some money for Wmnf's marathon today. I was able to pledge lots of money just in time during the Saturday Asylum show to have a guest spot on it soon. Yeah, I'm very excited to play some of my favorites for all of the Bay area! I'm going to start creating my playlist for the guest show starting right now! It's gonna be great and all you friends out there should listen when it happens!
Okay, I got all my excitement and love out on here. Now I feel a little more relaxed but I am still crazy in love with Death From Above 1979, possibly the coolest band I've ever met. I can't wait to rock out at their live show!"
Haha, I was sooo happy yesterday!
(I'll have some images from the instore on here shortly.)
Current Mood:
rushed


2 comments - Leave a comment
Oct. 21st, 2005 02:25 pm DFA 1979 In-store tomorrow!!

I've had tomorrow's date on my mental calandar for about two months now (I think...) and now it's here! DFA1979's free instore at Vinyl Fever! I have no idea what they'll play since it's a 'dj-set' but I'm showing up for whatever the hell they do while trying hard not to stare too much at the drummer. ;) Who else is going?

(This is all depending that the hurricane doesn't crash the party of course...)

THIS Saturday, October 22nd, 2pm: DEATH FROM ABOVE 1979 DJ SET We will be relinquishing the use of our sound system to the drum and bass duo prior to their Ice Palace gig with Queens Of The Stone Age and Nine Inch Nails. Assuming Wilma doesn't interfere (As long as they don't cancel the gig at the Forum, they will be here, too)

Current Mood:
okay
Current Music: The Rosebuds - Leaves Do Fall


2 comments - Leave a comment
Oct. 19th, 2005 04:17 pm New music!

I have so much great, new music to hear right now to help distract me from the fatal monster hurling itself towards my hometown right now. Beautiful music makes any situation better.
Explosions in the Sky have a new album that is a rerelease of their very first album. It's called 'How Strange Innocence' and the free download offered on the label's site is stunning. It's called 'Look Into the Air' and it has the band's signature sound, and it's beautiful. They really are one of the most unique bands out there right now.
Download here: http://www.temporaryresidence.com/mp3s/explosions_lookinto.mp3
http://www.temporaryresidence.com/descriptions/trr85.php
Local shoegaze and dream pop heroes the Vera Violets have a new album out soon and they have four new songs offered on their Myspace page. They're such lovely songs! My new friend Nikki is in the band and she lends her awesome vocals to two songs, 'When Yes Means No' and 'Nothing's Adding Up.' This music and band are the greatest thing around these parts and everyone needs to hear them. There was also a Spacemen 3 cover that the band posted recently too and that one was so rocking and amazing! I love this band!
Myspace: http://www.myspace.com/theveraviolets
Spacemen cover: www.hellospaceman.com/sm3covers
Current Mood:
sleepy
Current Music: Vera Violets - Stars

Leave a comment